Don't brace for impact – embrace it
At C2 Melbourne 2018, October 17-19, the focus will be on re-energizing and re-tooling established and nascent leaders, innovators and creators from all industries and disciplines. Through orchestrated collisions, engaging discussions, purposeful collaboration and a vibrant environment filled to the brim with meaningful opportunities for play, you'll be able to challenge your biases, reset your imagination, identify blind spots and build the new set of tools you'll need for driving radical change.
We believe that it's at the intersection of commerce and creativity that we'll find innovative and actionable solutions to the challenges of our times. Join us to create new collisions of ideas across the following programming pillars: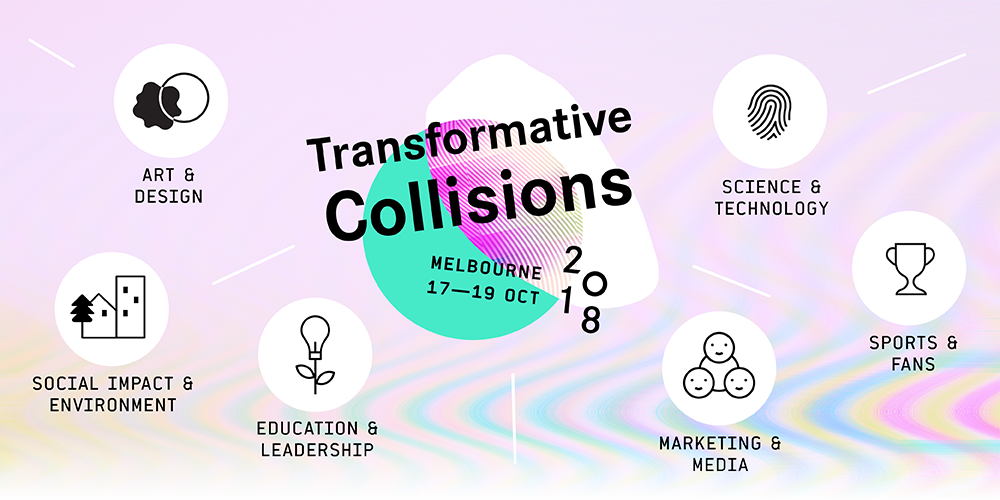 Art & Design
Everyone can be creative – and that is the key to innovation for you, your team and your organisation. Reinvent your approach to business by learning from the work of artists, designers and architects who dedicate their lives to changing the way we think, feel and do.
Unlock innovation through creative problem-solving
Design transformative objects, experiences and environments
1+1=3: What happens when tech meets art?
The business of fashion: New models for the runway
Look underground to predict the next trends in your industry
Education & Leadership
The world is very different than it was 200, 100 or even 50 years ago. What you now learn over the course of a 3-year university program might be obsolete by the time you get your degree. Considering we must all prepare for an uncertain world, shouldn't we be teaching mindsets instead of subject matters? In this rapidly changing world, it's time to start producing entrepreneurial thinkers rather than factory floor followers.
Skills for an AI world: Rewiring our brains for creative thinking
Ed tech: Successful tech-enabled programs and teaching practices
Human-centered design as a core competency
Career resiliency: Keep moving and learning
Mental health: A key value at home, online, at school and in the workplace
Social impact & Environment
More than ever, everything is connected – including your bottom line. Every choice you make has an effect not only on the world around you, but also on your future business. As a leader, make sure the consequences are beneficial on all accounts.
Do more with less: Benefit from efficiencies and circular economies
Clean energy and water: Fuel progress using scarce resources
Invest for impact: Multiply your positive effect
Diversity as a driver of creativity, productivity and innovation
The city as a system: Laying the infrastructure for rich, connected and efficient urban environments
Marketing & Media
Brand experts, broadcasters, retailers and storytellers have quite the brief these days. Competing for a fractured audience that has an unlimited choice of content and increasingly shorter attention spans means making an impact is a defining challenge. With the old terms of engagement out the window, discover new data-driven strategies to reach the citizens and consumers of tomorrow.
Delve into data: Dig into the changing DNA of your consumers
Creative technologists wanted: Inform your next big idea with smart analytics
AR, VR: Your new multi-platform storytelling toolkit
Tell the compelling truth: Investigative journalism and data-driven news
Personalise to loyalise: Offer ultra-targeted, interactive and social brand experiences
Science & Technology
We're standing on the cusp of a dramatic transformation in the way we work, communicate and move through the world. Artificial intelligence and machine learning, quantum computing, 4D printing, gene-editing, cryptocurrency, robotics and other game-changing tech are here – and are going to keep evolving. Practically applying these technologies to activate the opportunities and possibilities that come with them is front-of-mind for business leaders looking forward. Tap into the work of world-renowned entrepreneurs, scientists, researchers and technologists and make sure your business doesn't get left behind.
Medtech, biotech and the next steps in human evolution
Decentralization and blockchain: The new layers of the internet
Beyond Skynet: The human faces of the AI revolution
Printing on demand: Programmable matter and the future of making
Quantum leaps: Landing the next technological moonshots
Sports & Fans
We've been watching and cheering on elite athletes and favourite teams for as long as we can remember. Now we have the opportunity to apply the philosophies, learnings and techniques behind winning medals and premierships to our businesses. The notion of a sporting role model just leapt to a new level.
Apply analytics to cultivate fans, loyal to the last
Athletes: Peak performance, leadership and resilience, on and off the field
Sports training and psychology: Turn talent into excellence
Use the model of sport to build competitive advantage
E-sports: Commitment and teamwork for the digital generation
Get out of your comfort zone to experience Transformative Collisions
Innumerable collisions take place all across the C2 village over the course of the three days. Expect dozens of conferences, conversations and hands-on sessions, thousands of Braindates and surprises at every corner. In this creative environment designed to get you out of your comfort zone, 2,500-plus leaders from all sectors of industry will be meeting to inspire each other to find new solutions to real business challenges.
We hope you will join us.